Basildon Empire Cinema
In 2018 it was announced that Basildon Council would be developing a new
cinema and restaurants
complex on East Square in Basildon Town Centre, alongside architects
Pollard Thomas Edwards
and main contractor
Mclaren.
Lenticular Screen
A public lenticular screen allows two contrasting images to appear to change and move as you walk past the screen, an optical illusion.

The lenticular screen will be located at the back entrance of the cinema, which will act as second entrance for visitors arriving by car or foot. This area
is currently the car park off Great Oaks, near The Basildon Post Office Depot.




Work in progress
This page of the website is to show the development of the screen visuals with notes as the project evolves over time. Each side of the lenticular screen will deal with a specific theme visually and conceptually, for example:
Side A explores Basildon's past and present heritage in collaboration with local heritage groups and individuals. To find out more info about the heritage side please click here.
Side B explores Basildon's key areas of natural beauty in collaboration with local primary schools through a series of workshops, encorporating frottage and audio recordings. To find out more info about the heritage side please click here.


The first heritage side mock up combined purely web found images, simply to see how pieces of heritage could engage with each other, for example archival, photographic, public sculpture and buildings. The pieces in this design would be considered primarily pre and post new town era, nothing post 1970s. Feedback was given that modern pieces of today in a few years would be considered local pieces of heritage in themselves.


At ryedene primary school the students really ran with there own woodland panorama, choosing there own leaves, colour pastels and coloured paper. The pieces they created in the classroom were very expresive, colourful and painterly. We wanted to capture that vibe. Even though only one school was able to participate before covid lockdown 1.0 it still enabled a mock design of an artist impression of the nature side, replicating and using purely the frottaged leaves from the ryedene pupils. We also wanted to feature a design element such as the bluebells which is iconic to Basildon as we have the largest bluebell population in the UK. Feedback was that wether other nature areas in the borough could be featured to really highlight this is Basildon.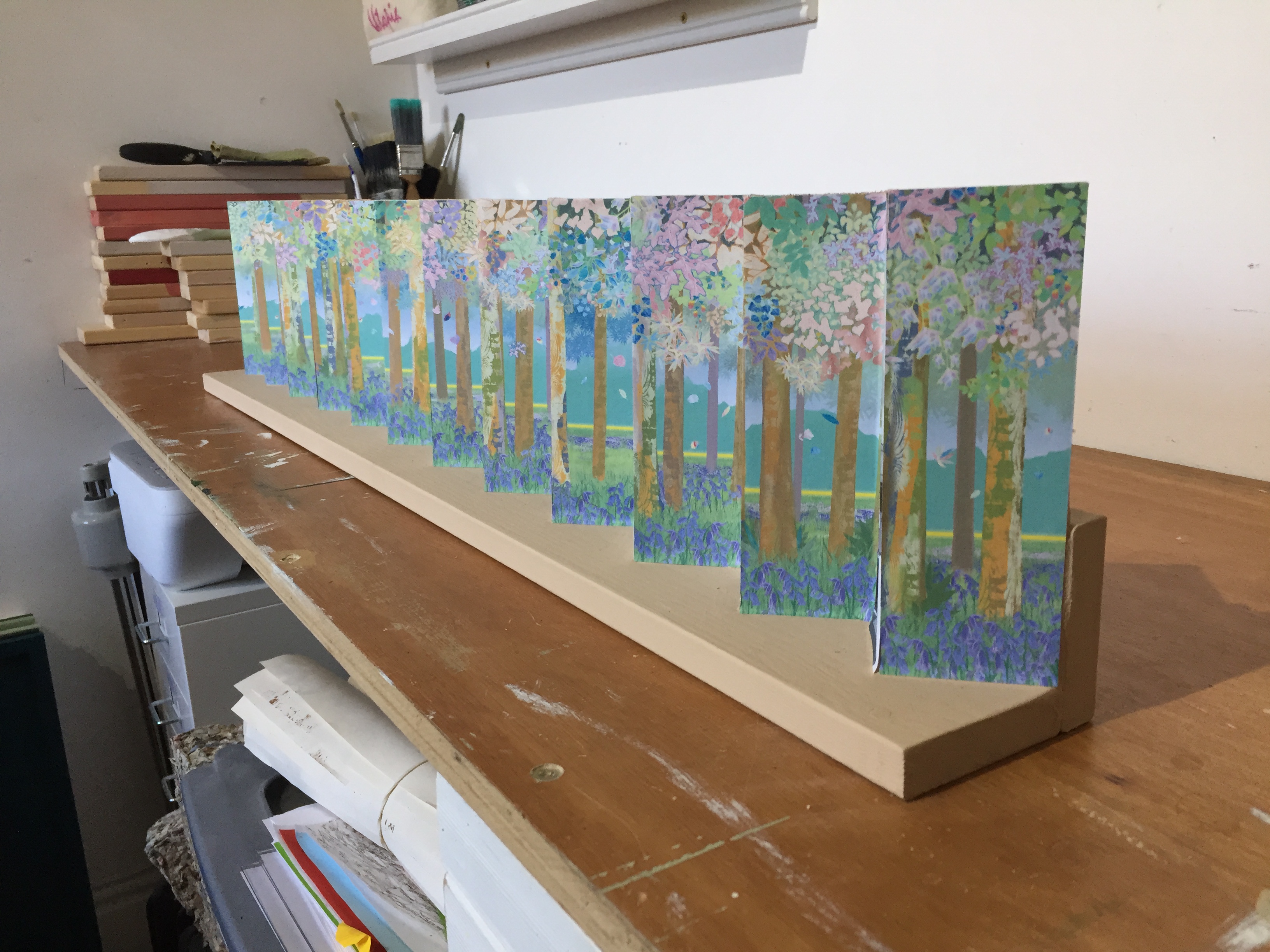 A small wooden maquette of the lenticular screen was created to see how the two above mock ups would engage with each other as local people would walk past and view the screen. The next steps would be to create a second wooden maquette, creating the full size of the screen (ofcourse not to scale)


A video was made to capture what a passer byer of the screen may experience as they walk past.




A second version of the heritage side was designed which was made purely with heritage in the borough that had been photograhphed. This created a better quality design with more clarity. From public suggestions with Basildon Heritage we was able to start photographing pieces of heritage locally, bringing in those local community interest pieces. This version also included modern pieces such as Basildon Sporting Village and the Basildon Hollywood sign.


Version A and Version B were combined to see how these two version engaged with each other and also getting closer to the length of the final lenticular screen which will be up 25m in length.



Above is a short slideshow enabling to view one side of a mock up design at full length. This method will be used to allow people to see how the piece in its entirety could be viewed. Feedback was that the pieces of heritage should be put into chronological order of when built, which would be similar in format as the basildon bus station mural which also shows a timeline of Basildons History. Perhaps this could be a modern counterpart, picking up from where that piece left off.




As we explored different green spaces in Basildon, we mocked up a sketch to see how could expand on the first mock up design. We looked at Langdon Nature Reserve, Pitsea marshes, Wat Tyler Marina and Northlands Park, each iconic and recognisable to Basildon. The aim would be to make the nature side feel as site specific as the heritage side.


One idea for the heritage side was to attempt to place the pieces of heritage in chronological order. This is an interesting idea as you begin to see how archiecture has changed over the years. This also mirrors the bus station mural which also runs in chronological order - creating a modern extension of the iconic tiled mural.

Above is a short video of the above design idea, enabling you to have a closer look. Left to right: Great Burstead Church, St Nicholas Church, All Saints Church, St Michaels Tower, Chalvedon Hall, Pitsea Hall, Nevendon Hall, Watch House Farm, The Forge, The Rectory, The Barge, The Crown, Laindon Park School, Laindon Station, Gun Hill Church, Five Bells, Gordan Hall, Pitsea Primary School, Mission Hall, Laindon War Memorial, Barstable Cottage, Tin Tabernacle, St Basils Church, Laindon Picture Theatre, Prince of Wales, Heritage Barn, The Old Arts Centre, Brooke House, The Onion, The Echo Bridge, Basildon Hospital, Victorian Post Box, Bas Fire Station Tower, Festival Leisure Park, Basildon Bus Station Mural, Gloucester Park Swimming Pool, Beehive, Colours, Mother and Child Fountain, Basildon Sporting Village, Bas Hollywood Sign, Toys R Us, Kings Head, Basildon Resource Centre.


Above is a development from the previous nature design, we have begun to implement inspiration from more local green spaces in Basildon. From left to right, We have the Blue Bells in Langdon Nature Reserve, the golden rolling fields which can be seen towards Dunton and One Tree Hill, the twisting estuary at Wat Tyler Marina, the bridge and lake at Northlands park and ending once again with blue bells. In the background you can see various rolling fields which are common in the surrounding areas of Basildon. The students leaf rubbing will be used accross the entire panorama creating that personal touch and vibrancy. The piece is primarily inspired from the workshop with the primary students and developed in discussion with them.




Above is a short video of the above design idea, enabling you to have a closer look.



A wooden maquette with 48 sides has been created to replicate the final screen. The two videos above show what it may feel like to walk past either side.

If you turn your heard while walking past the screen, the images begin to marge, which creates an interesting illusion. The video above shows how the screen will visually transform as you walk past with your eyes beginning to focus on one side as they other side goes out of focus.



The above design compiles a more extensive range of pieces of heritage past and present accross the borough. These suggestions have come from various volunteers at Basildon Heritage and different locals via popular facebook history groups. Below is a list of all the pieces within the design and closer up images of each section.


The above in situ mock ups aim to give a feel of the space. The images are not accurate on perspective but you get a feel of how the the two images could interact with each other.
Above is the fifth nature mock up, which begins to encorporate more of the local students leaf rubbings, creating a colourful and playful touch. On the left had side we have also removed the wooded area and included poplar trees across a hill inspired by the trees that can be seen at Gloucester Park.
Above is the fifth heritage mock up, which has a re-adjusted layout - placing more archival pieces towards the back and the newly photographed pieces towards the front. This will put less pressure on the archival images, in regards to the pieces becoming pixelated. We have since had more suggestions/nominations which have been included.
---
Final Designs
As we move closer to the final design stages, we are beginning to fine tune the designs, which has included colour grading, re doing the sky, and adding some paths/ground to connect the collage a little bit better.



We have lowered the horizon line on the nature side to match with heritage side, so when the screen is viewed as one, they will flow. In conversation with the schools we was originally going to allocate schools certain panels, for their leaves but we have decided that schools have specific bushes, trees and areas. We will then create a map for each school, so there students can find there own individual/schools leaves. We have also included some bricks remnants in the path on the left, which aims to suggest the plotland history in the town, which when walking around Langdon Nature Reserve, can be seen.